Custom Development
Share your specific requirements with us for a tailor-made integration.
Customisation Features
Synchron.io adapts to your needs by offering a range of features allowing you to customise your integrations.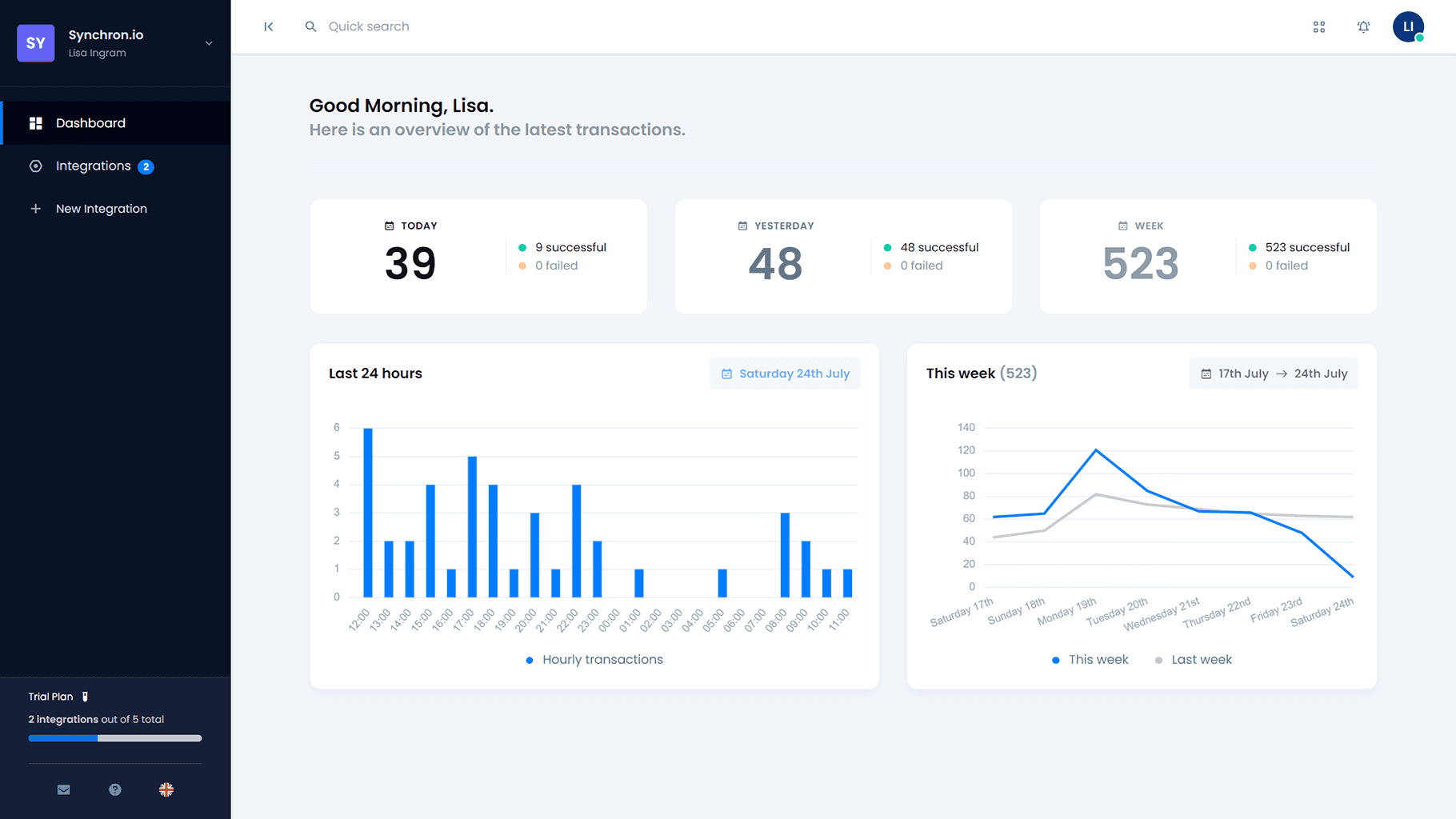 Bespoke Onboarding
We help you setting up your new integration at no extra cost.
If you have specific needs regarding how your workflows should operate and how your data should be transformed, our technical team will develop a bespoke solution especially for you.
Request new Workflows
If an integration is available on Synchron.io but does not offer the workflows or document types that you were expecting, our technical team will try to implement it for you at no additional cost.
Feel free to ask!
Developer API
If you need to connect Synchron.io to your own API, or want to fetch data using Postman, you can easily connect to our API.
The API allows you to push data via POST requests, enabling you to set up automated tasks directly from your self-hosted servers.
UI Settings
The Synchron.io interface offers many features to configure your integrations without having to seek help from a developer. You can easily control how your data is transformed before being sent to the destination app.
Manual Imports
You can import historical data manually, directly from the Synchron.io interface. A feature available in your account will allow you to perform imports & exports, one by one or in bulk, and in real-time.
Documentation
Synchron.io offers a very detailed documentation to get you started setting up your integration. It also contains technical tips and recommendations to help you understand how the integration works behind the scenes.
Protecting Data
Protecting your customer's data is our first priority. This is why we thrive in improving and securing the platform constantly, as well as using the latest data encryption and SSL/TLS technologies.
Secure transfers & encrypted data
In addition to the TLS transfer protocol that secures communication between APIs, we encrypt all data exchanged between your applications from end to end.
Secure TLS / Open SSL Transfers
HTTPS Secure Cookies and Protected Areas
Reinforce the protection of your data
Secure session and restricted permissions
Synchron.io has several layers of security and protects high-risk areas and actions that could impact your data.
Synchron.io also makes use of bleeding-edge technologies that are regularly updated and proof-tested by the dev community.
Protected Against XSS, DDoS, MitM Attacks
High Availability Servers & Load Balancing
Protect sensitive areas of your account
Two-step Validation
Enabled
The area you wish to access is protected.
Enter your password to confirm your identity.
Scalable Integration Platform
E-commerce synchronisation software features